CITY MEDIA GROUP LLC
was formed in 2005 to serve the emerging need for custom-designed, fully outsourced high-speed
wireless
networks. We make this possible by combining extensive experience in information and communication technologies. We can help you develop technology infrastructure which will enhance the value of your properties.
"56% of leisure travelers and more than 76% of business travelers
bring their laptops with them when they travel."
© 2010 FORRESTER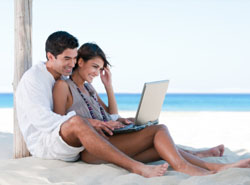 We offer
high-speed wireless internet access
for hotels, hotspot solutions for restaurants, long distance point-to-point links and custom wired network solutions. It's not a surprise that high-speed internet has transformed from "nice-to-have" to "must-have." Families are relying on the Internet during their trips, with two out of three respondents saying they are likely to use the Web to e-mail friends, family and co-workers,
get maps and directions
, and send digital photos home. Our experience in building a hotel wireless network can be your opening ticket to a whole new customer segment - business travelers. High-speed internet access is quickly becoming a
standard amenity
that hotels need to offer to remain competitive. Offering internet connectivity is critical to attract and retain not only corporate clients and business travelers, but also
leisure travelers
who bring their laptops to stay in touch with their companies, or play online during a rainy day.
Hotels that offer high-speed internet access can
benefit
from permanently increased occupancy rates, repeat business, enhanced guest satisfaction and greater business retention. In addition, high-speed internet access can be an additional
revenue
source with the option of charging guests for this amenity.
City Media Group LLC is a proud member of
Ocean City Chamber of Commerce
and
Ocean City Hotel-Motel-Restaurant Association